The History of Vandling, PA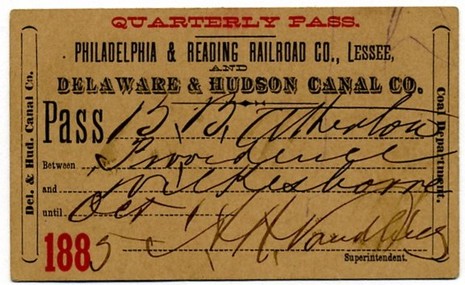 The present day land of the Vandling Borough is comprised of land that was granted into warranties by the Pennsylvania State government. The warrantees in the Vandling area were Peter Beach, George Porter, Patrick Gray and Peter Gray.
The new populated section of Vandling was called St. Patrick's named after Patrick Gray, one of the warrantees who obtained parts of the southeastern section of Vandling, on April 3, 1792. Through a series of wills, grants, and indentures by the owners of the land from Philadelphia, New York, and Carbondale, PA, the land of the present-day residential section was finally purchased by the Northern Coal and Iron Co. from Robert L. Kennedy, of New York, on April 18, 1866. Actual settling of Vandling, then called Clintonville, probably began soon after 1866. The first purchases of land for settling and establishing industries were by the Northern Coal & Iron Co., the Hillside Coal & Iron Co., and the Delaware & Hudson Coal Co.
Fell Township of which Vandling is a part, was heavily wooded, and the converting of the forest into lumber was the important industry; sawmills sprang up along the water courses, and tanneries, to utilize the bark, soon followed. Until the discovery of coal, lumbering, tanning and farming were the only occupations carried on in the township. In 1864, the Williams Coal Mine, on Elk Creek was opened, and later the mines of the Delaware & Hudson Coal Co., around which sprang the small village of Clintonville. The name Clintonville probably originated from the names of the D&H Coal Co. mines in the area—the Clinton mines.
Fell Township was divided into four districts. Clintonville was in the fourth district, the extreme northeastern part of the township.
Abraham H. Vandling, a former land agent, took an active interest in the village and was appointed superintendent of the D&H Coal Co. mines in the area.
See entire article......
The above is from an article "Vandling Borough Historry by Margaret Sheroshek" Forest City News, Thursday, May 2, 1968. Used with permission.
---